Challenge
Loan processing used to be a manual and sluggish ordeal, causing frustrating delays in the entire process. Traditional methods involved handling each file individually, making it a time-consuming and outdated approach. This inefficiency often resulted in missed opportunities, customer dissatisfaction, and lost business.
Solution
Mortgage Loan Success Like Never Before with inflooens
inflooens revolutionizes mortgage loan processing, ushering in an era of efficiency, responsiveness, and adaptability. Discover how inflooens can benefit you!
Get AI-powered portfolio visibility and streamline proactive operations.

Categorize loan funnel milestones easily.

Track tasks visually with clear progress indicators.

Personalize your homepage for role-based access.

Access loan details and simplify management.

Stay organized with an integrated calendar.

Manage multiple loans for repeat business and lasting
relationships.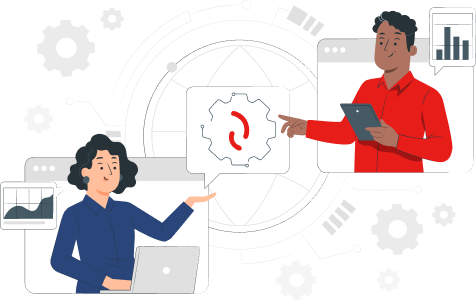 Challenge
Tracking production issues in the loan processing workflow was a challenging task. We often faced delays in identifying and addressing issues, leading to a less-than-smooth processing experience.
Solution
AI-powered solution for tracking and mitigating issues
Experience a revolution in loan processing with our AI-powered solution for tracking and mitigating issues. Here's how it transforms the process:
Our system proactively tracks the loan process to alert and mitigate potential issues

We've integrated a robust framework for swiftly identifying and addressing loan-related issues, ensuring a smooth workflow.
Challenge
Our loan processing services faced a significant challenge – high compliance risks and the looming threat of associated penalties. Manual processes left us vulnerable to regulatory changes, putting our clients and our business at risk. Compliance violations could result in substantial penalties and damage to our reputation.
Solution
Revolutionize Your Loan Processing
Thanks to inflooens, those challenges are a thing of the past. Here's how inflooens can help you!
Our automation system proactively monitors regulations, minimizing risks and penalties.

Modernized data integration with Encompass improves efficiency and eliminates errors.

Tailor tasks for each loan journey with our dynamic system, streamlining operations.

Smoothly integrate Encompass conditions for faster processing and reduced workload.
Challenge
We face significant challenges in keeping track of all the follow-up tasks and communications with the various parties involved in loan processing. This lack of streamlined communication often led to delays, increased processing times, and occasional lapses in transparency.
Solution
From Chaos to Mastery with inflooens!
Experience a transformation in loan processing with our client-centric approach. Here's how our solutions can enhance your loan processing experience:
Streamlined Omni-Channel communication with integrated telephone and message.

Integrated Audit Trail for Transparency and Compliance During the Loan Process.

Consistent communication using integrated templates.
Challenge
Managing a well-orchestrated closing experience used to be a challenging task due to the multitude of checks and coordination points involved.
Solution
Transform your closing experience with inflooens!
Where the symphony of efficiency and consistency conducts its majestic performance
Single interface for consistency and efficiency.

Tailor tasks for efficient loan journeys, reducing unnecessary checks, and coordination.

Our AI system tracks and mitigates potential loan issues for smoother closings.

Integrate with partners for streamlined updates,  communication, eliminating hurdles.

Simplify document handling for loans.

Quickly identify and resolve loan issues with our tracking framework